Posted under:
Root Canal
Posted on: October 2, 2022
Celebrate Dental Hygiene Month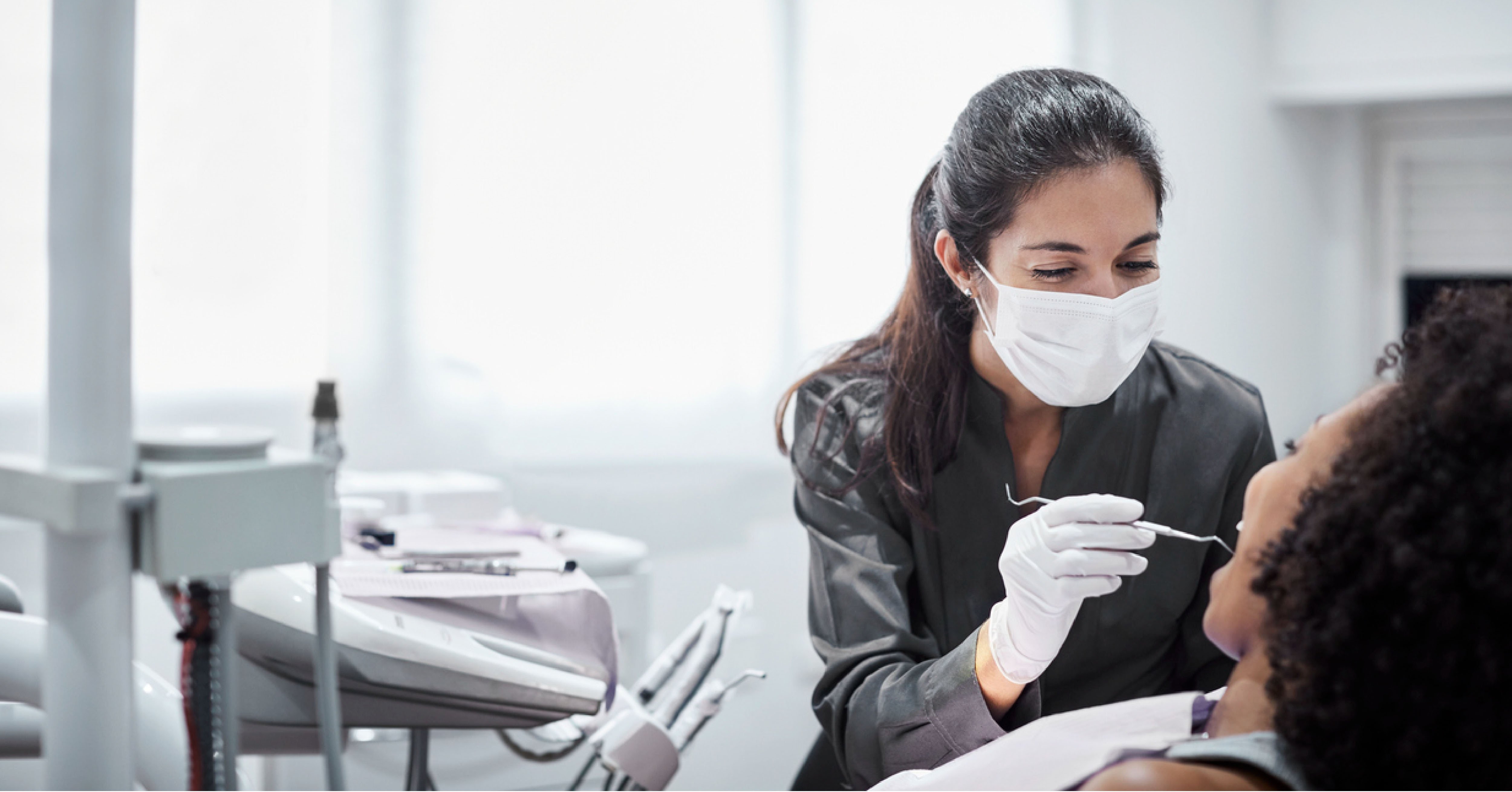 Why should I celebrate Dental Hygiene Month? Practicing good oral hygiene has so many benefits our dentist and dental hygienist in New Castle want you to realize these significant benefits. First, you can prevent cavities, which affect both adults and children. Good oral health also lowers your risk of developing gum disease, the leading cause of tooth loss in adults. Taking care of your teeth also helps fight bad breath, which is awkward in social and professional situations. Finally, your self-confidence will improve with clean, not yellowed teeth, and healthy gums.
Celebrate Dental Hygiene Month by taking care of your teeth and gums and scheduling a checkup and professional teeth cleaning today!
What Can I Expect From a Dental Hygienist Visit?
We may be biased, but we believe the best way to celebrate Dental Hygiene Month is to visit our dental hygienist in New Castle. Hygienists are dental professionals and experts in preventing cavities and gum disease who work hard to keep your smile healthy.
During your visit, our dental hygienist may take your dental history. You'll also have your teeth cleaned and possibly x-rays taken. Your dental hygienist will go over your oral care routine at home and let you know if there are any areas of your mouth that need more attention. You can learn how to floss correctly if you need help with it.
Why Do We Need a Dental Hygiene Month?
Good dental hygiene is a gift everyone can give themselves. Everyone deserves a healthy, pain-free smile. Following the steps below can help you give yourself this gift in only a few minutes a day.
Why Should I See a Dental Hygienist?
Dental Hygienists are oral healthcare professionals who specialize in preventative care. Normally, you would see the hygienist first, and then your dentist. They do much of the preliminary work, giving your dentist time to give you one-on-one attention.
Typically, your hygienist will clean your teeth by removing plaque and tartar, polishing your teeth to remove minor stains and professionally flossing them. They may also take your x-rays and offer you tips on dental hygiene and recommendations for products that may work better for you. Hygienists can also apply fluoride treatments and dental sealants for children.
Better Toothbrushing
One of the best things you can do every day to protect your dental health. You should brush every morning and just before going to bed at night. If you're having an acidic food for breakfast, like orange juice, brush before eating. Brushing within 30 minutes of eating or drinking acid products can damage your tooth enamel.
Take at least two minutes to brush.. It will take this long to clean every tooth surface you can reach. Use a timer or play a two-minute song on your phone until you get familiar with how long two minutes actually are. Many electric toothbrushes have a built-in timer.
Next:
1. Wet your toothbrush and apply fluoride toothpaste. Always choose on with soft bristles.
2. Hold the brush at a 45-degree angle so you can pull plaque away from your gums.
3. Brush your teeth gently using circular motions. If you're bending the bristles on your toothbrush, you are brushing too hard.
4. Brush your tongue, too. It will get rid of bacteria in your mouth and help keep your breath fresh.
5. Spit out any extra toothpaste. Don't rinse your mouth with water.
Keep your toothbrush clean to avoid introducing more bacteria into your mouth. Rinse it in hot water after using it, and allow it to dry by storing it upright and uncovered. Replace your toothbrush every three to four months or after you've been ill.
What Does Flossing Do?
Flossing gets rid of plaque and food particles stuck between your teeth. You should floss at least once a day, as your toothbrush can't clean between teeth. When plaque sits between your teeth and at the gumline, it can harden into a substance called tartar. Tartar is an unsightly yellow color and can make your teeth look dingy. Food particles left between your teeth will also rot and cause bad breath. By flossing, you can help prevent decay and gum disease, so it's essential to do it every day.
If you don't floss every day, find an alternative to using string floss that you are more likely to use. An air or water flosser is an excellent alternative, as it is faster and easier. There are other alternatives that might make you more likely to floss daily.
Use Mouthwash
Mouthwash offers more than just fresh breath and a clean feeling in your mouth. It can whiten your teeth, offer additional fluoride protection or help prevent gum disease depending on the ingredients. Don't use mouthwash for at least 30 minutes after brushing, as it can wash away any remaining toothpaste in your mouth. Remember, never use mouthwash as a substitute for brushing or flossing. Ask your dental hygienist about which type of mouthwash would be right for you.
Chewing Sugarless Gum
After you eat or drink anything sugary or starchy, plaque builds up on your teeth. The bad bacteria in plaque create acids that can eat away at tooth enamel. When you can't brush after a meal, chewing on a piece of sugarless gum for 20 minutes can help. The chewing action stimulates saliva flow, which will help wash the plaque away. Sugar-free gum also will help freshen your breath.
To celebrate Dental Hygiene Month this October, buy yourself some sugarless gum to keep with you for when you can't brush. But plenty and keep it with you at all times. You never know when you may need it.
Regular Dental Visits
Seeing your dentist and dental hygienist in New Castle for regular checkups and exams should also be part of your dental hygiene routine. Our goal is to keep your smile healthy and attractive for the rest of your life. Don't forget this important step, especially during Dental Hygiene Month.
Celebrate Dental Hygiene Month by making an appointment for a checkup and teeth cleaning today! We look forward to serving you.