Posted under:
Root Canal
Posted on: August 31, 2022
Time to Learn About Gum Disease During National Gum Care Month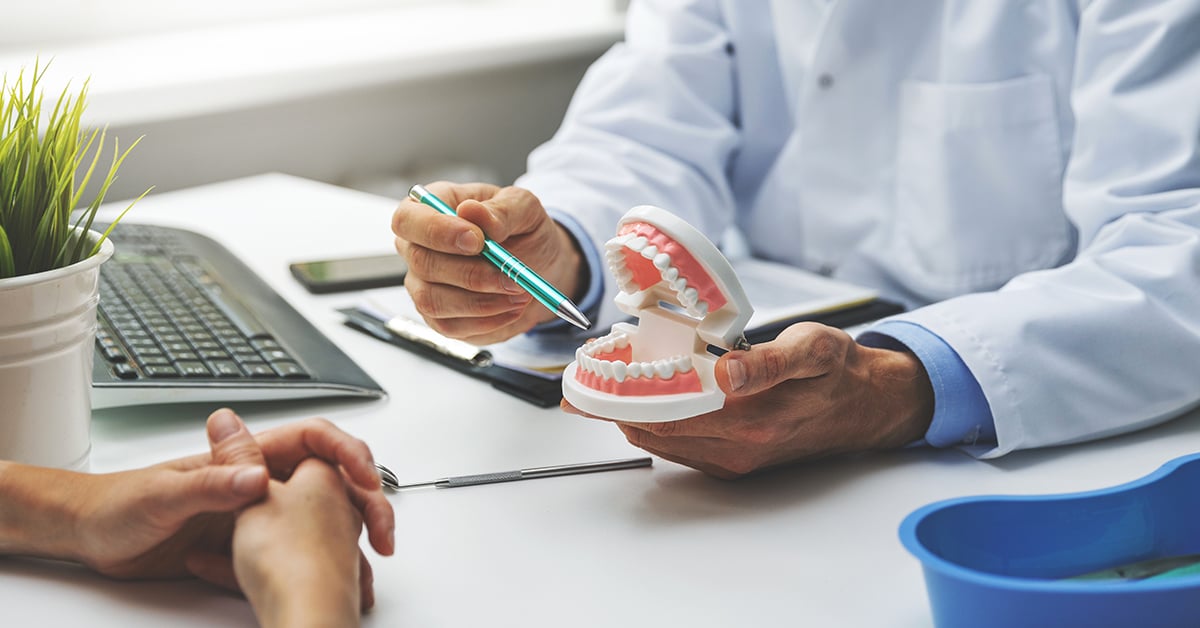 Gum disease is one of those problems that a lot of people have probably heard about but don't want to talk about it. It's one of those issues that they hope will just "go away" if they don't think about it. However, gum disease isn't just going away, and it's a growing problem for both kids and adults in America.
In fact, did you know that the majority of tooth loss in adults over the age of 35 is because of gum disease? Unfortunately, it's true, and people are still failing to take gum disease seriously.
Thankfully, September is dedicated to National Gum Care Month. The goal is to spread the word about gum disease and learn how to prevent it. Knowledge is power, after all. The more people who know about it, the more informed choices that they can make in regard to their oral health.
Gum Disease Isn't Just a Problem for Your Oral Health
It's true: Gum disease can cause a lot of problems for your oral health. After all, without good gums, you can experience a number of issues with your teeth, including them falling out. However, just because gum disease can cause problems with your oral health, doesn't mean it can't affect your general health as well.
Over the years, scientists have linked a number of health problems that can develop as the result of gum disease. Some of these conditions include diabetes, heart disease and stroke. Most experts agree that these conditions occur as a result of the infections that can take place in the mouth as a result of untreated gum disease. However, there could be other factors in play as well.
Caring for Your Gums
All right, so everyone can agree that gum disease is something that no one wants. That said, how do you go about caring for your gums so that you don't get gum disease? You may be happy to hear that there aren't a lot of special things you need to do to prevent it. You do, however, have to develop a good oral health routine that you use every day.
The basis of this routine should be built on the foundation of brushing your teeth at least twice a day. Ideally, you want to brush after every meal. However, if you can't make that happen, then at least make sure that you're brushing twice a day.
Beyond that, make sure that when you brush, you're using a toothbrush that has soft bristles. Hard bristles can damage your teeth and gums. You should also make sure that you pick a toothbrush that has varying lengths of bristles to ensure that it stimulates the gums while still cleaning all the surfaces of your teeth.
Additionally, you need to make sure that you aren't forgetting to floss. You need to be flossing your teeth at least once every day. This is an area of oral health that people don't tend to do enough. However, flossing helps stimulate your gums. It also helps get rid of food that might be stuck in between your teeth. Bacteria thrives on these food particles.
On top of that, don't forget to pay a visit to your dentist at least twice a year. Your dentist can spot any early warning signs of gum disease. This is good because the earlier that you catch gum disease, the easier that it is to treat.
How Do You Spot Gum Disease
If you're visiting your dentist regularly, you don't have to worry about spotting gum disease. That being said, it's still a good idea to know some of the warning signs to look for. After all, you could still develop gum disease even if you regularly clean your teeth and gums. For example, some people are simply more prone to getting gum disease than others.
Let's start with the common warning signs first. Typically, the first warning sign people notice is bleeding gums. In most cases, you'll notice this bleeding after you floss or brush your teeth. On that same note, you may also notice that your gums are swollen or red around the bleeding area.
The later signs of gum disease are a bit more extreme. In fact, it can cause your gums to start separating from your teeth. If infection has set in, you can even start to see pus form around your gums and teeth.
If you notice these symptoms, it's a good idea to visit your New Castle dentist. Even if it's not gum disease, these are still warning signs that something isn't right. To avoid any kind of permanent damage to your teeth or gums, it's a good idea to get these symptoms looked at right away.
Learning the Three Stages of Gum Disease
There isn't just one stage of gum disease. In fact, the term gum disease is just used in general to describe all three stages. The good news is that you don't really have to know the difference between the stages. That's what your New Castle dentist is for. In honor of National Gum Care Month, though, let's take a look at the three stages anyway.
The first stage is gingivitis. This is the most common type of gum disease that people have. Thankfully, it's also the least severe. The most common symptom of this stage is bleeding gums. Typically, your dentist can help you with treating gingivitis fairly easily.
The next stage is periodontitis. This is when the symptoms start to become a bit more extreme. Unlike gingivitis, pockets start to form within the gums during this stage. It's easy for bacteria and food to get caught in these pockets. Bleeding and swollen gums are still the most common symptoms that people notice, though.
The last stage, advanced periodontitis, is the worst. At this point, your best option for treatment is usually oral surgery. This is because the gum disease has likely degraded the soft tissues and parts of your jawbone by this point. You'll probably notice your gums receding, and your teeth might actually fall out.
We Can Help Fight Gum Disease
If you think that you might be suffering from gum disease, give us a call. We offer dental services for people living in New Castle. Reach out to us today to set up an appointment for a checkup.