When Do You Need an Oral Surgeon?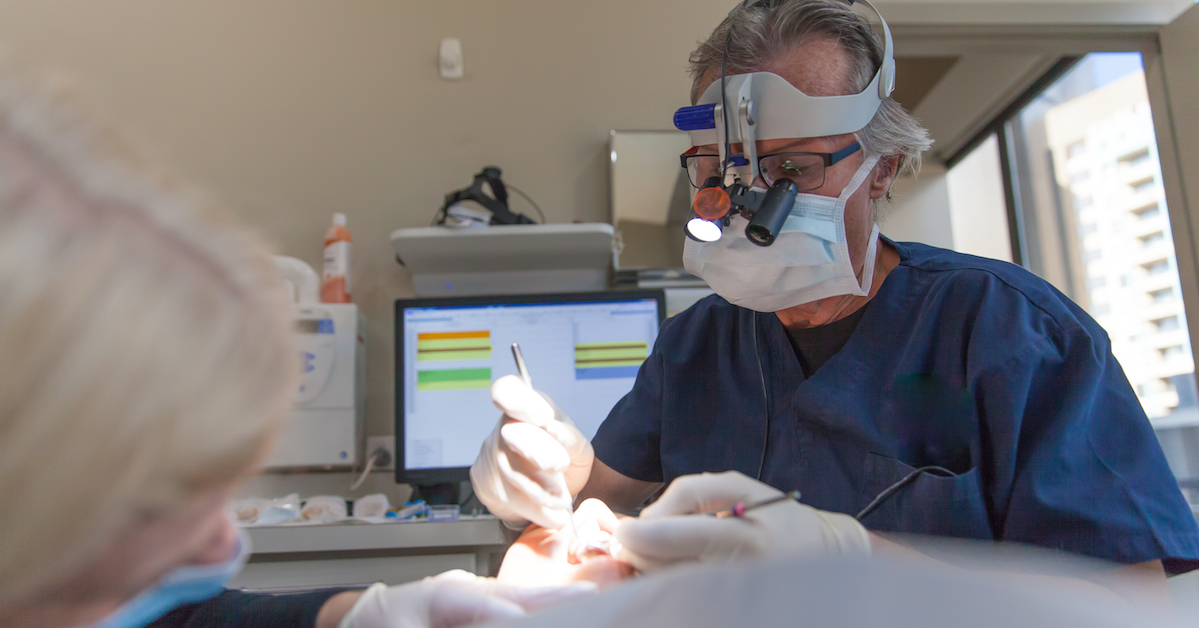 Oral surgeons are dentists who chose to enter a hospital-based, four-to-six year residency program after dental school. They learn about anesthesia, various surgical procedures, and more.
Dentists typically refer their patients for oral surgery for procedures that require surgery on the jaw, the soft or hard tissues in the mouth, or treating face or neck trauma. For example, dentists commonly extract visible teeth in the mouth. However, they refer patients to an oral surgeon when the tooth is trapped below the gum and requires an incision to remove it. In the case of impacted wisdom teeth, an oral surgeon can offer general anesthesia for the patient's comfort.
How Do I Know if I Need an Oral Surgeon?
You may need an oral surgeon if you need the following procedures:
Impacted wisdom teeth removal or complex extractions
Dental implants placed (your general dentist can place the crowns on them)
Jaw surgery for severe overbites or underbites that orthodontics cannot correct
Trauma treatment for facial injuries, like broken jaws or cheek bones
TMJ treatment when conventional methods have not worked
Advanced sleep apnea treatment when CPAP machines or mouth guards are not working
Tumor removal and other oral cancer treatment
Gum contouring, either to repair the effects of gum recession or to fix a gummy smile
Bone grafts to felicitate implant placement
Correcting a cleft lip or palate or other deformity.
If you have any questions regarding whether we can provide a specific service, please call us.
Before and After Oral Surgery; What Makes it Easier?
You can make oral surgery relatively stress-free by getting things ready ahead of time. First, talk to your oral surgeon about your medications. If you have to take any medications before surgery, please let him or her know. Next, you'll want to ask about the cost, so you have no surprises. Verify we take your dental insurance and don't forget to bring your dental insurance card. If you don't have dental insurance, please ask about your payment options.
Stock your home with soft foods you can eat after surgery. Also, stock up on foods your family can make easily, so you don't have to do any cooking for several days. Good foods to keep in the house include yogurt, ice cream, nutritional drinks, and oatmeal. If you have small children or pets, arrange for someone to take care of them for a day or two after your surgery. You want to be able to relax and take it easy for a few days and have nothing to worry about except healing.
Do I Need a Ride Home After Oral Surgery?
In many cases, you should have a designated driver who stays during your appointment and gets you home safely. If you are just having local anesthesia, this isn't necessary. If you have general anesthesia, where you're completely under, you should have your driver stay with you for a while. Avoid driving for at least 24 hours, even if you feel okay.
What Do I Do Before Oral Surgery?
Naturally, you should follow your oral surgeon's pre-op instructions. These will likely include the following guidelines.
If you're having general anesthesia, don't eat or drink for at least 12 hours before surgery. If you are only having local anesthesia, you can eat and drink about one to two hours before surgery. Either way, avoid heavy meals.
Wear something comfortable. If you're having IV sedation or general anesthesia, wear a sort sleeve top.
If you wear contacts, wear your glasses on the day of surgery.
Skip makeup.
Avoid wearing perfume or anything with a heavy scent.
Don't smoke for at least 12 hours before surgery.
Brush your teeth before surgery; it could be awhile before you can do this again.
Double check your ride can bring you home and stay with you for a few hours.
Skip wearing jewelry to surgery.
Don't wear dentures to surgery.
What Is the Recovering Process Like After Oral Surgery?
Patients usually get custom post-operation instructions based on the procedure they have. Typically, you may be told to:
Not smoke for anywhere from one to five days
Don't spit, rinse or drink through a straw for at least one day
Control swelling with ice
Take medication as directed
Eat only soft foods until your oral surgeon tells you that you can resume a normal diet
Do not eat or drink anything hot for at least 24 hours
Rest and avoid any vigorous activity for 24 to 48 hours
Use salt water rinses as directed
If you have any excessive pain, swelling or any other problems, don't hesitate your oral surgeon's office.
If your dentist in New Castle referred you to us, or you're looking for an oral surgeon, please contact us today. You don't have to suffer with dental pain. If you've been in an accident or have another emergency, visit the closest emergency room or call 911.