When to Seek Help for a Dental Emergency in New Castle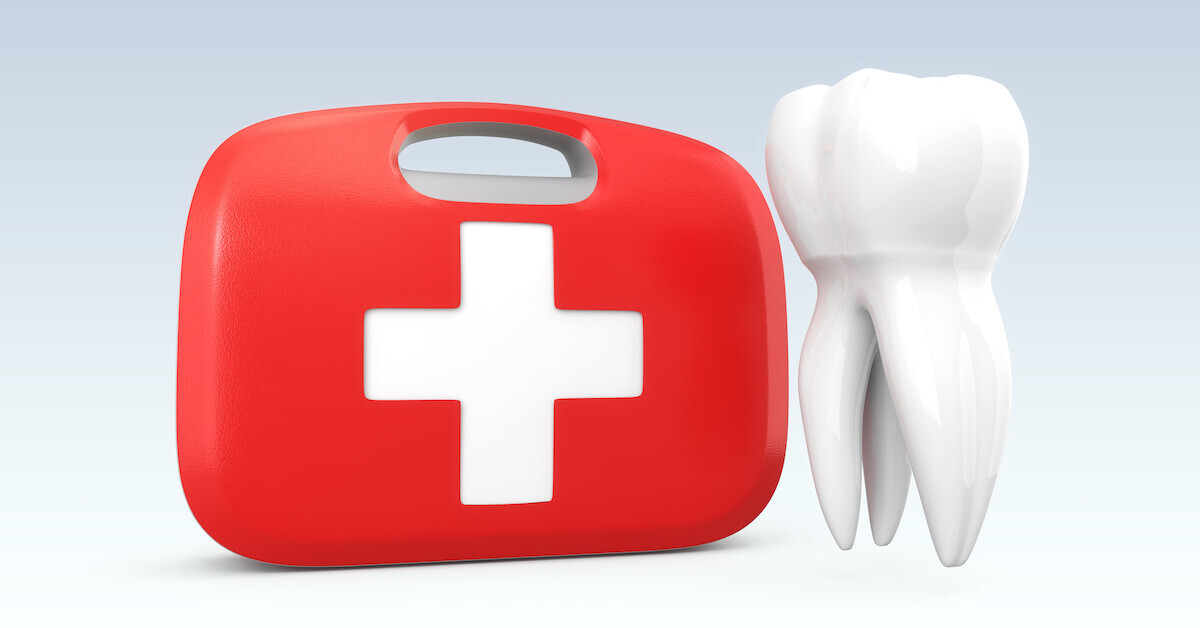 What Qualifies as a Dental Emergency?
There are many situations that are determined to be a dental emergency by oral health professionals. In general, if you're experiencing intense pain that's affecting your daily activities and isn't alleviated by over-the-counter pain medication, you should seek treatment from an emergency dentist. In addition, any injury affecting the inside of your mouth, such as a puncture wound or deep cut to the lips, tongue, or cheeks, should also be considered an emergency situation.
These symptoms should also be considered a dental emergency in New Castle:
Loose, cracked, or chipped teeth
Fever or chills associated with mouth pain
A knocked-out tooth
Swollen airway that affects breathing
While not considered an emergency, these situations can be treated by a dentist offering walk-in dental services:
Damage to a dental bridge
Losing a porcelain veneer, crown, or filling
Bleeding gums while brushing and flossing
Sudden tooth sensitivity
7 Signs You Need Care for a Dental Emergency in New Castle
There are many oral health issues that are considered an emergency. The following is a list of seven signs that require immediate treatment from a dentist:
1. Excessive bleeding that does not stop: Excessive bleeding can be a complication of a tooth extraction, or it can occur if you've suffered serious trauma to the face. Regardless of the cause, bleeding that can't be stopped at home requires emergency treatment from a dentist.
2. Injury to the gums and soft tissues: If you sustain a deep cut or gouge to the gums or other soft tissues of the mouth, we encourage you to call our office as soon as possible. Your dentist will treat the wound and examine the surrounding teeth to ensure they're healthy.
3. A knocked-out tooth: If a tooth gets knocked out, it's crucial for your dentist to reinsert the tooth as soon as possible. The highest likelihood of successful treatment occurs when you visit a dentist within one hour of the incident, according to the American Association of Endodontists. If you play high-impact sports, your dentist may recommend buying an American Dental Association (ADA)-approved emergency tooth preservation kit.
4. A fractured jaw: Jaw pain, difficulty speaking, and feeling like your teeth aren't fitting together properly are common symptoms of a fractured jaw. To prevent permanent misalignment problems and damage to your teeth, it's crucial to receive emergency treatment.
5. A fractured or dislodged filling: A broken filling is a serious issue that can cause damage to the tongue or side of the cheek if these soft tissues rub against the sharp edges of the filling. You'll also need to receive treatment as soon as possible to repair the exposed tooth.
6. Facial swelling: Facial swelling and pain can be caused by numerous issues, from an abscess, infection, TMJ dislocation, or fracture, all of which require emergency treatment.
7. Dry socket pain and infection after extraction: After a tooth extraction, a blood clot must properly form in the tooth socket, helping to promote healing. If this doesn't occur, a dry socket can form, which can expose the bone and nerve to the air and the food and drinks you consume. This can affect up to 5% of people who have had a tooth extracted, and it's an emergency condition that's not usually relieved by over-the-counter pain medicine. Bad breath, an unpleasant taste in your mouth, and pain that spreads to the ear and neck are common symptoms of dry socket.
Why a Tooth Abscess Requires Emergency Treatment
Advanced periodontal disease, untreated tooth decay, and a cracked tooth are just a few ways an abscess can form. A tooth abscess is an infection caused by bacteria, which forms a pocket of pus around the root of a tooth. Although it usually just affects one tooth in the early stages, the infection can spread rapidly, affecting the surrounding bone and soft tissues.
For the majority of patients, an abscess usually resolves within a few days of receiving emergency dental services. However, the infection can have life-threatening complications if not treated early. These include mediastinitis, which causes irritation and swelling near the lungs, and sepsis, an infection of the bloodstream. Mediastinitis has a survival rate of just 60% for most patients.
Immediately call our office if you develop any of these symptoms of a tooth abscess:
Fever
Swelling in the face or cheek
Throbbing tooth pain
Pain that spreads to jaw, neck, or ear
Pain when chewing or biting
Treatments for an abscess can vary, but commonly involve the dentist draining the pocket of pus and prescribing you with a course of antibiotics to treat the bacterial infection. A root canal may be performed to restore the form and function of the affected tooth, but if the tooth is too damaged, an extraction may be necessary.
Is My Cracked Tooth an Emergency?
Do you have a habit of grinding your teeth? Maybe you frequently use your teeth as a tool to open packages or bags, or perhaps you regularly play sports without wearing a mouthguard. Although common, all of these actions may eventually lead to a cracked or chipped tooth. It's important to remain calm in this very distressing emergency, and you should call your dentist as soon as you can. You should also rinse your mouth with warm water to clean the area.
How can you tell if your chipped or cracked tooth requires emergency treatment? It depends on the extent of the injury, whether you're feeling any pain, and if the area surrounding the tooth is bleeding. We encourage you to seek immediate treatment for a chipped or cracked tooth that's bleeding or causing intense pain. If only a small portion of the tooth is chipped and you're not in pain, call our office to schedule an appointment with a dentist. To control minor swelling or discomfort, you can apply a cold compress to the facial area or take an over-the-counter pain reliever.
If you regularly play basketball, hockey, football, or other contact sport, wearing a mouthguard can protect your teeth from an emergency situation. If you grind your teeth while sleeping (bruxism), wearing a mouthguard while you're asleep can help protect your teeth from damage. Your dentist can design a custom mouthguard that fits the shape of your mouth perfectly.
Just like other aspects of your health, prevention is key when it comes to a dental emergency. Our knowledgeable dentists can spot the early signs of oral health problems during your routine checkup before they progress to an urgent issue that requires emergency services. However, even with preventative methods, an accident or injury can occur that qualifies as a dental emergency in New Castle. Our staff is dedicated to the highest standards of care and compassion, and will help to resolve your problem.